The Micare is a tiny mod kit with cartridges from Smok. It features an integrated 700mAh battery, micro USB charging, a vibration function, a preheat system, 4 wattage output settings, a 4 color LED to show wattage while taking a puff, 30 watts of maximum power, exquisite finish options, 1mL refillable cartridges and a plethora of safety protections.
Overview
With tiny dimensions of 56.0mm x 43.0mm x 14.8mm, this is an extremely portable setup. The design is also modern and features an exquisite  finishes such as black cobra, 7-color cobra, blue cobra, black/white resin, blue/black resin and blue/brown resin. A lanyard is included for easy transportation in the hand.

The Micare device is built with a 700mAh integrated battery which recharges via a micro USB port. Wattage output can be set to 4 different power levels in the range of 5 and 30 watts.
Current output power is indicated via an LED light while taking a puff.  A red light means power output is set to maximum, orange 95%, green 90% and blue 85%.
A preheat system can be activated via a side-button prior to firing. This  ensures rapid liquefaction of e-juice inside the cartridge.  The Micare is draw activated, so simply take a puff to fire it up.

For safe vaping, there are four safety protections built into the software and hardware of the Micare. These are low voltage protection, short circuit protection, preheating overtime protection and 8 second cutoff.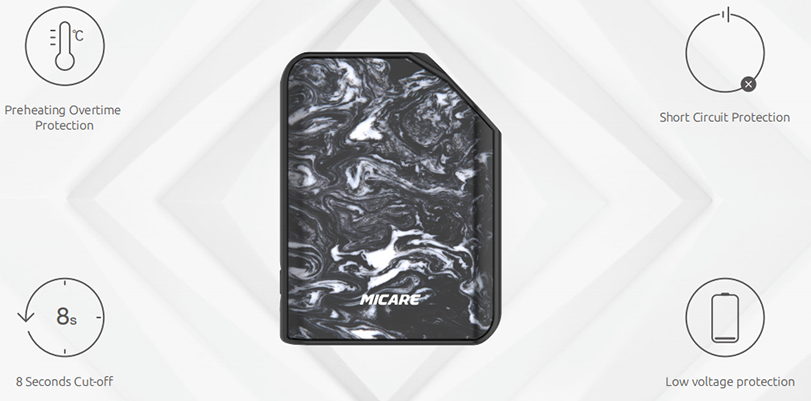 Focus On www.ave40.com For More Vape Kits.
This little mod works with 1ml cartridges (Micare G5) or 1ml/0.5ml cartridges (Micare T1). Both types are easily refilled by injecting juice into a filling slot. Coil resistance is unkwown at this time so we will add this information when it becomes available.

Features & Specifications
Dimensions: 56.0mm x 3.0mm x 14.8mm
Portable setup
Lanyard included
700mAh Integrated Battery
Standby Current: <100uA
Output voltage: 3.0V-4.1V
Output wattage: 5W-30W
Input voltage: 3.3V-4.2V
USB Charging System: 0.37A/5V
Overcharge Voltage:4.3V
Preheat System Output: 1.3W
Over-discharge Voltage:2.4V
Overcharge Current:1.0A
Vibrate function
Intelligent LED output indicator: red (max power), orange, blue,  green (86% power)
Press fire button once to change output
Preheat design allows e-juice to liquefy fast: press side button first prior to firing
Puff activated firing
Ergonomic mouthpiece for comfort
Multiple protections: low voltage, short circuit, preheating overtime
8 second cutoff
In The Box
Micare Device
Lanyard
Micro USB Charging Cable
User Manual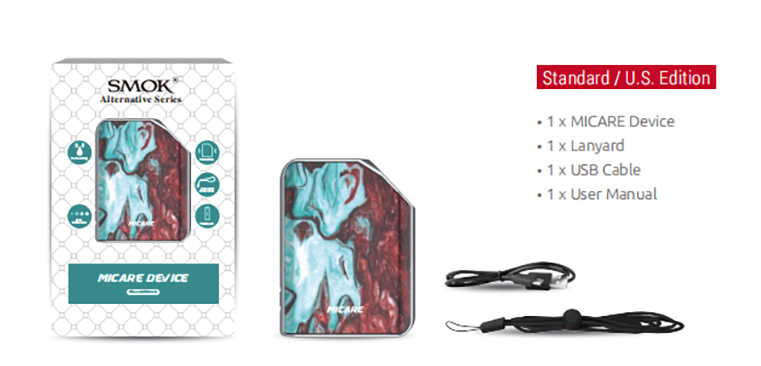 Click Here Ave40  For Vape Wholesale Cooperation.
Now It's Available :  Smok Micare Vape Pod Mod 700mAh
Hot Sale Recommendation:
Vaporesso Aurora Play Zippo Pod Starter Kit
Justfog Compact 14 Starter Kit
Vape Wholesale & buy Electronic Cigarettes online in Bulk. Quality Vape Products, Trusted Vape Wholesale Supply by VapeShops Owners.
WHOLESALE INQUIRY: https://www.ave40.com/wholesale-service.html